Renton Events
Sokhna, Journalist
June 16, 2022
Hey  RHS summer  is  around  the   corner there  are some  event  like concerts and  outdoors movies and  farmers markets   coming  through  out  the  summer. Make  sure to to  check  them out   and  have  fun !
Enjoy the Renton City Concert Bands as they present their summer concert at the Renton IKEA Performing Arts Center, 400 S. Second St., Renton on Sunday, June 12, 4 p.m.
Adults: $10
Students & Seniors 50+: $7
Tickets can be purchased at Renton Community Center, Renton Senior Activity Center, or at the door on the day of the performance.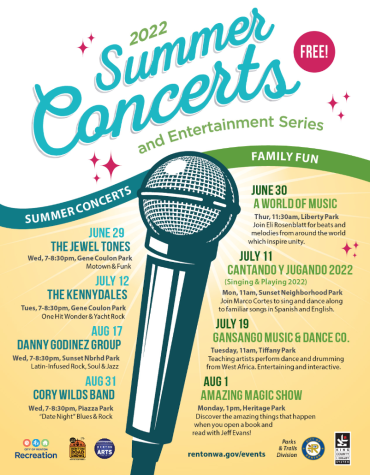 the free Renton Outdoor Movie series returns in 2022 with shows in four city parks under the stars.
All movies begin at dusk and for optimal viewing pleasure it is recommended to bring low-back chairs and blankets.
Incase of inclement weather, please call our inclement line at 425-430-6719. Cancellations will be made at 5 p.m.
July 22 – Encanto  
Liberty Park, 1101 Bronson Way N

Part of Renton River Days
August 5 – Jungle Cruise
Kennydale Lions Park, 2428 Aberdeen Ave NE
August 13 – Spider-Man: No Way Home
Piazza Park, 233 Burnett Ave S
August 16 – Sing2
Location: Piazza Park, 233 Burnett Avenue South
Additional Dates:
Piazza Park, 233 Burnett Avenue South

  425-430-7214
Hope  to  see  you there.
.
sources
https://rentondowntown.com/renton-farmers-marke
 Sources
https://www.rentonwa.gov/city_hall/parks_and_recreation/recreation/events/summer_outdoor_movies
 Sources
https://www.rentonwa.gov/cms/one.aspx?pageId=12609327