The RHS Volleyball Team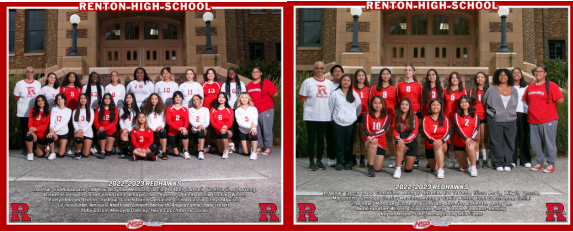 (Picture of RHS Junior Varsity)                      (Picture of RHS Varsity)

Throughout the 2022-2023 Volleyball season, the team experienced highs and lows. I interviewed the Volleyball manager, Dayshia Fiame (12th grade). Manager of the Renton RedHawks Volleyball. I chose Dayshia to interview due to the fact that managers track statistics and assist the coaches. Overall, managers are important and deserve more recognition. Keep reading to find out more about our school's Volleyball program!
Interview Q&A
Name, Grade, and how long have you been a Volleyball manager?:
"My name is Dayshia Fiame, I'm in 12th grade, and this is my first year being a volleyball manager."
If you've played volleyball, how long have you been playing?:
"I've been playing volleyball for eight years, but decided not to play for my high school career."
 What are the stats of both Junior Varsity (JV) and Varsity?:
"JV won 3 games, while Varsity won 2. And I'm really proud of each of them."
How do you think the season went? :
"I think this season went amazing. Although there were altercations I think we did great."
4 players that you think grew the most over the season? :
"Angela Fiame (Outside Hitter), Zaniyah Beckwith (10th) (Middle), Elisse Mejia (11th) (Utility), and Amayah Chao ( 12th) (Outside Hitter). Read more to
find out about each of their student-athlete spotlights!
What are the differences between practices and games?:
"Games were a lot more stressful on the girls compared to practices they showed out on the court."
What are practices like? :
"Practices are from warm-ups to scrimmages. They warm up for about an hour or so and then they scrimmage the rest of the time. Even though the girls work hard at practice they still have time to have fun. Practices are definitely something to look forward to at the end of the day. The team had made a space, where it's ok to make mistakes and keep going."
What was your point of view on the team bond over the season?
"Seeing them bond was really funny because JV stuck with themselves while Varsity tried to reach out to JV. Overall they all became close and made bonds like sisters.

Student-Athlete Spotlight
(Student-Athlete Spotlight is where we can congratulate all the hard work our players have done over the 2022-2023 season!)
The 4 players I would like to spotlight:
 Our first, freshman Angela Fiame (Outside Hitter) started off on JV and worked her way up to Varsity throughout the season. Can't wait to see her grow as a player!
Next Zaniyah Beckwith (10th) (Middle) she's improved so much from the start and to the end of the season, her saves are awesome! so excited to see her play in her junior year!
Then Elisse Mejia (11th) (Utility) Elisses digs are excellent. We are lucky to watch Elisse play her senior year in the new upcoming season.
Last but not least, Senior Amayah Chao (12th) (Outside Hitter). Amayah started off on JV and then quickly worked her way up to starting Varsity! She's grown so much over the season. Her spikes are phenomenal. Unfortunately, it's Amayahs senior season, but she had a great run.
All things considered, the Volleyball team is a great program. A place to make long-term friendships and an after-school extra- curriculum activity. Also, a great way to get your daily exercise! To be able to join the Volleyball team you must sign in through FamilyID, then check with the Athletic Office for furthermore. With all means join the Volleyball team!