Gear Up Opportunities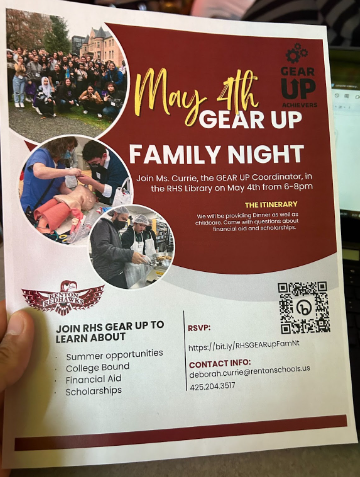 The Gear Up Program at Renton High School offers various events and opportunities for students to partake in. Here are just some of those future opportunities you could participate in if you sign up in time and links to where you can find more. Make sure to sign up as soon as possible to get better chances of getting accepted into certain programs. 
NOTE: Summer applications will be open from April 1st – May 19th. Students, families, and coordinators will be notified of acceptance on May 26th.    
OPPORTUNITY 1: June– 30th Washington University: Overnight Campus Tour
 For rising juniors and seniors only.
They will be visiting the campuses of Central Washington University in Ellensburg, Washington State University in Pullman, and Whitman College in Walla Walla. We plan to spend one night in Pullman and 2 nights in Walla Walla before coming home on Friday, June 30

th

. If your student is interested in applying to participate in the overnight college tour, they will need to fill out the following application:

https://bit.ly/RHSGUsummer23

 
OPPORTUNITY 2: July 10th-15th Husky Leadership Academy: Space Camp 
6 days, 5 nights (overnight in UW) 
This academy takes inspiration from NASA's Artemis mission which aims to establish the first long-term presence on the moon. Students will spend the week completing a series of hands-on activities that mimic aspects of planning a rover mission on the moon. The activities are a mix of science and engineering including flying a drone, coding, field trips to Museum of Flight, career panels and workshops with aerospace professionals, and more. We are partnering with Northwest Earth and Space Sciences Program (NESSP) for this camp! 
OPPORTUNITY 3: July 24th -29th Husky Leadership Academy: The Science and Politics of Health 
6 days, 5 nights (overnight in UW) 
This academy explores the diverse college and career pathways in healthcare and health sciences. Participants will participate in project-based learning, interact with health professionals, discover how vaccines & testing works, visit laboratories and healthcare facilities, learn from community organizations about how they respond to the diverse healthcare needs of King County, and much more. We will offer classes and activities in public health, biology, medicine, statistics, policy, community services, mental health, and more. 

 
OPPORTUNITY 4: July 10th through Wednesday, August 9 RadioActive's summer 2023 Intro to Radio Journalism workshops
The early application deadline is Tuesday, March 28, 2023 at 11:59 pm PT, and the final application deadline is Tuesday, May 9, 2023 11:59pm PT. We encourage you to apply early! The application process will become more competitive after the first deadline passes.

This is a PAID opportunity open to teens ages 15-18 in the greater Seattle area. Youth earn $1,000 for completing the workshop.

Learn important life skills.

MORE OPPORTUNITIES: To find more events and programs to participate in please look at the Gear Up page on Canvas or get in contact with Ms Currie through email or in person. 
Be sure to start earlier than later!
Make sure to take advantage of these programs while you can and make sure to sign up early!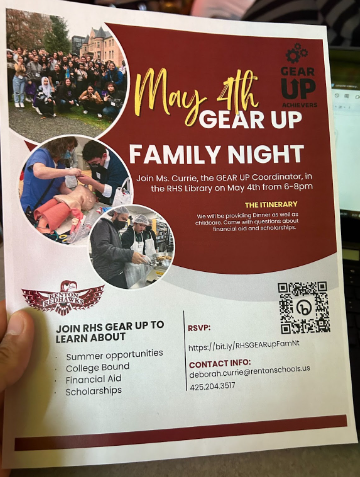 Sources: