Renton student has artwork displayed at U.S. Capitol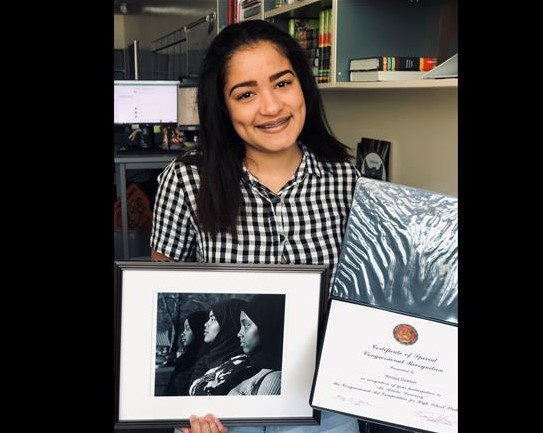 A few weeks ago, Amaya Dawson, a student from Renton High School, had her artwork a reflection of "diversity and feminism" placed 2nd at the Congressional Art competition, and it will now be hung up in Washington D.C.
The Congressional Institute promotes a national "high school visual art competition" every spring to motivate the artistic talent in each district, called "The Artistic Discovery," which has been going on since 1982 and has over 650,000 entries.
Students submit their artwork to their representative's office and a committee of district artists select the winning entry. Winners are recognized both in their district and at the annual awards ceremony in Washington D.C. The winning works are displayed for one year at the U.S. Capitol.
Curious about how the Amaya felt, she was interviewed with a few questions, and this is what she had to say.
What was your initial thought when you found out your picture was being recognized?
"Shocked! Like I thought I was just going to get a certificate for, you know, for just participating to the competition but when I heard my name getting second place, I was like did the congresswoman say my name? I couldn't believe it."
Why did you start getting into photography?
"Art has always been in my family, my grandfather was an artist my mom does hair and I use to draw. Then in middle school, I took pictures of everything from people to nature. I will model sometimes. I don't know, it makes me feel good about myself, knowing that it's my creativity."
What do you think makes your pictures different from others?
"I believe my photograph reflects diversity and feminism when I took the picture I thought to my self 'Wow that's a good picture of my friends!' And now, I realize it brings out a message saying that everyone is different and that's a good thing."
Since you are a senior, what are your plans after graduation?
"I'm going to Green-River College to study photography and after that, I want to try modeling in hoping to show more diverse women in the beauty industry and having a photography business or may have a career in photojournalism."
Do you have any advice for upcoming photographers or lower classmen?
"I feel like that question goes to one of the teachers at RHS, Ms.Moore since she has more experiences and she is the one who encouraged me to go for it. But I guess would say don't believe that saying that 'everyone is a photographer' as long as you're passionate in the arts and its meaning to you and shares important messages then go for it."
https://www.house.gov/educators-and-students/congressional-art-competition
https://www.rentonschools.us/rentonhs#