Traveling to Bali, Indonesia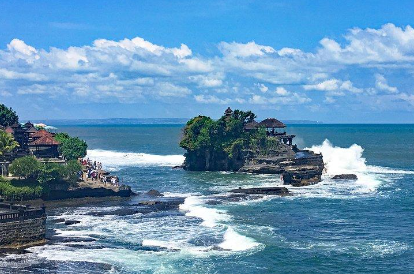 If you're looking for a great place to travel, I have a recommendation for you! Bali, Indonesia is an affordable destination depending on your accommodation style. I would estimate that the range per every 24-hour stay is 50-100 USD, which leaves you a good amount of money to can all the locale has to offer. If you're interested, here are some places you can visit.
Kuta Beach 
Kuta Beach is one of the most popular beaches in Bali, and it's easy to see why. Because of its beautiful view and reputation, it is packed with energetic beachgoers all day long. This famous stretch of sand, along with neighboring Legian and Seminyak beach just to the north, is a great place to spend a day if you're looking for fun and excitement. You can book surfing lessons and rent surfboards, boogie boards, sun loungers, and umbrellas directly from vendors set up on the sand.
      2. Lempuyang Temple Complex
If you've ever seen the famous Instagram photo of people at the Gates of Heaven and grew curious of the location, Pura Penataran Agung Lempuyang is what they posted. This famous structure is actually a part of a series of temples peppering the highlands of Mount Lempuyang. Try to visit on a clear day for the best views.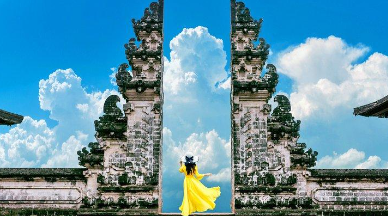 3. Seminyak 
Located in the southwestern coast of Bali. Seminyak is one of the island's most exclusive vacation destinations. From its high-end boutiques and five-star restaurants to its luxury hotels and spas, the city attracts well-heeled tourists from around the world.
    4. Tanah Lot
Tanah Lot is one of the most famous Hindu temples in Bali. It has been a part of Balinese mythology for centuries. The temple is one of 7 sea temples, each within eyesight of the next, to form a chain along the south-western coast of Bali.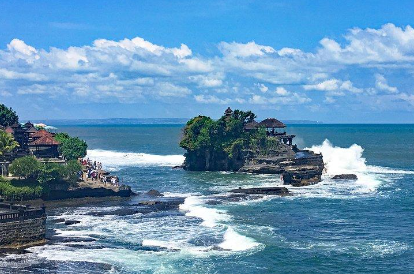 Ubud
Ubud is home to the island's most important museums, perched among the terraced rice fields that climb up the foothills of Bali's central mountains. Fortunately, it only takes a short walk or bicycle ride to escape from the crowds and commercialism. Ubud is surrounded by gently rolling rice paddies which create a beautiful impression of greenness.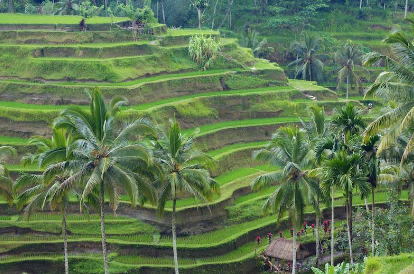 There is no other place like Bali in the world. A magical blend of culture, people, nature, activities, weather, culinary delights, nightlife, and beautiful accommodation.  Dazzling beaches beckon the sun seekers and surfers along the island's southwest coast, while ancient temples and a thriving wellness scene draw.
Sources:
https://en.wikipedia.org/wiki/Bali
https://tourscanner.com/blog/places-to-visit-in-bali/
https://www.tripadvisor.com/Attractions-g294226-Activities-Bali.html
https://www.planetware.com/tourist-attractions-/bali-ina-b-b.htm